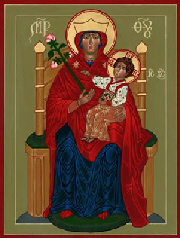 Ladye of Walsingham, be as thou hast been:
England's Protectress, our Mother and our Queen!
I must admit that I find it a little strange to find an icon of Our Lady of Walsingham. I have seen a few icons depicting western Saints and aspects of western spirituality and have always felt that, somehow, it doesn't quite fit. I suppose this is because I am something of a purist in most walks of life. I believe that each tradition has its riches, but that one element of a tradition, separated from the other elements of that tradition, loses much of its value without the grounding that the whole provides. It needs context in order to be effective.
Icons are not traditional in western expressions of the Faith, and, although I love them dearly (and use one in my own private devotion), I cannot help but feel a little uncomfortable (although that is too strong a word for the sense that I am trying to convey) when I see them used for public veneration in western churches.
Is this a little silly of me? I'd be interested to know what people's thoughts are.